OMG. *headsdesk*

FORCING ME TO GET THE CALENDAR!!!

//edit

I realized that in the span of 2 hours...Tegoshi's new cosplay photos -_-""" Though the one from TegoMass DVD isnt very new, it was something I haven't seen yet. And then there's the calendar...

Don't know to laugh or cry...LOL.

手越祐也你真的很反贱耶!!!(爆)
TEGOSHI'S SOLO THIS TIME.
(
HUGE photo credit to nonpiece!
Collapse
)
Literally let out a squeak LOL.
Tsuji-chan and Tsubasa-chan holding on Josei Jishin with NEWS on cover! ♥♥♥♥♥♥♥♥
And I'm forever in love with Tsuji's hair~~ ♥♥♥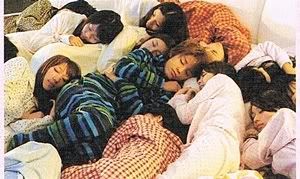 Actually there is already a photo of this in one of the TV mags but it was only in Potato Feb that there is a clearer pic.
OMG!!!!! Rrrrrr!!!!!!!!! Can you sense my jealousy shooting through the roof?????????
She who lies next to him!! Get to open her eyes and gaze at that beautiful face!!
She who lies right in front of his peen!! AHAHHA. What a nice spot to lie. Very clever that girl.
And she who lies next to his butt!!!! O.M.F.G. I'll be gladly inhaling his heavenly smelling ammonia gas if he does fart -> mad woman.
Only when I see something that motivates me to at least post an entry...
I just want all of NEWS to be together on New Year Eve and counting down to 2010 TOGETHER. Is that too much to ask for?
Apparently Tegoshi's playing Yukinojo Toyama? So I went and did a search on the manga/ anime and the first line that described his character?
女顔の美少年。背の低さと自分の女顔にコンプレックスを抱く。
credit: faith_alive! Thanks :D
AHHHAHAHA. He's short enough, he's pretty enough, HE'S PERFECT.
And pretty Uchi would be there Ahehehe.
I hope they crossdress :DDD
KKKYYYYYYAAAAA. CANT WAIT FOR NEXT SEASON'S DORAMAS!!!


WITH PIN'S RECENT OBSESSIONS OVER ENGLISH MUSIC AND ATTEMPTS TO SING IN ENGLISH, "ETERNAL" HAS NOT A SINGLE ENGLISH, WELL, EXCEPT THE SONG TITLE.

BEAUTIFUL BEAUTIFUL SONG. I LOVE IT.
I'M PLEASANTLY SURPRISED AND ABOLUTELY FLAILING OVER THIS SONG RIGHT NOW.


That's how life has been. D:

Am playing with zuji.com; JAL is offering very attractive prices to fly ;)
My face is breaking out and my hair is very screwed.
Did a 10-year-kid attempted that cover? *headsdesk*
I...I can't look it (>.<"""")
//edit
OH MY EYES! D:
...for a DVD cover for concert tour that was beyond awesome.
</a>
SO CUTE :D *wants*